Family Email from Principal Stowell
Posted on: September 1, 2022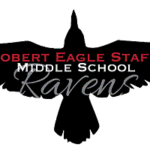 September 1, 2022
On behalf of all of us here at Robert Eagle Staff, welcome to the 2022-23 school year! I am so excited and honored to start my first year here as your principal. Teachers have had an inspiring week of training, planning, setting up their classrooms, and getting ready to kick off the new school year. We wish to extend a warm welcome to not only our current students and staff, but also our new staff, students, and their families. Thank you for being RESMS Ravens!
Assistant Principal Devin Murphy and I are beyond excited to create a culture of care and joy as we rebuild what it means to SOAR! When students feel safe, connected, valued, and heard, high quality learning will follow.
As we are getting ready for the start of school, I wanted to share some information with you. Once we are fully up and running you can anticipate an Administration Newsletter to come out every other week in addition to the weekly PTA communications. Our goal is to keep you informed and up to speed on everything Robert Eagle Staff. Also, please don't hesitate to reach out with any questions or feedback along the way.
This year we are really focused on having a strong start with clear, consistent, predictable routines and common expectations that will help us have a warm and welcoming school community where every student can be their best selves. In addition, our staff is committed to creating an anti-bias, anti-racist school community that highlights the identities and brilliance of all our students.  
This year, we will SOAR:
S – We will be emotionally and physically SAFE!
O- We will take OWNERSHIP of our learning and community!
A- We will set goals, monitor our progress, and we will all ACHIEVE!
R- Most importantly, when hard times arise, we will be RESILIENT!
If we truly live these core values and put joy back at the center of our school, we will SOAR together! Mr. Murphy and I are so excited to be here. We look forward to meeting all our RAVENS this coming week!
In this work together,
Zac Stowell, Principal
School Hours
The daily bell schedule will be updated online the night before school starts.
School Hours: 8:55 a.m. – 3:45 p.m.
Wednesdays: 8:55 a.m. – 2:30 p.m.
Student Technology
Students will get their 1 to 1 devices distributed Friday, September 9.
School Supplies
Please email me if you need support with school supplies!
Attendance Policy
Attending school every day is very important. Punctuality and regular attendance are top priorities here and help us to make sure every scholar is successful. We will monitor and use restorative approaches to engage students and motivate them to be present and on time.
Counselors
The counseling staff is dedicated to meeting the needs of our students. Each counselor will work with a specific grade level and loop up with that grade level.
7th Grade Counselor
Nancy Martinez, Counselor, namartinez@seattleschools.org, 206-413-2319
8th Grade Counselor
Michael Mihelakakis, Counselor, mcmihelakaki@seattleschools.org, 206-413-2311
6th Grade Counselor
Carley Spitzer, Counselor, cmspitzer@seattleschools.org, 206-413-2316
School Social Worker
Our social worker and community partners work to help our families in need.
Carrie Syvertsen, cesyvertsen@seattleschools.org, 206-413-2317
COVID-19 Guidance
Recently, the DOH updated its COVID-19 guidance for the start of school.
Symptoms, testing, and isolating
The DOH requires anyone showing symptoms of COVID-19 to stay home and get tested for COVID-19. Additional guidance includes:
A person who tests positive for COVID-19 must isolate at home for five days. After five days, if symptoms improve and the person does not have a fever for at least 24 hours (without taking fever-reducing medications), they can return to school or work. COVID-19 tests are encouraged before returning.
If an individual tests positive after five days of isolation, they must stay at home for the full 10-day isolation period.
Anyone returning to school or work after isolation should wear a well-fitted mask from day six to 10. These individuals should also remain masked for sports and other extracurricular activities.
If an individual is unable to wear a well-fitting mask, they should continue to isolate for a full 10 days.
Notifications
Schools are required to have a process in place to notify families and staff about COVID-19 outbreaks.
The DOH no longer requires the following at SPS facilities:
Physical distancing
Field trip restrictions
Restrictions on assemblies and other gatherings
Universal masking (except in medical spaces)
SPS highly recommends the use of masks in school settings. The correct use of a well-fitting mask reduces the risk of spreading COVID-19. Masks will continue to be available in SPS buildings.
Visit the COVID-19 response page for more information.
Details about the monkeypox virus (MPV) are on the SPS website and in back-to-school packets families will receive on the first day of school. If you have questions, please contact us at csh@seattleschools.org.
Together we can keep our schools healthy and thriving throughout the upcoming school year and beyond.